I'm planning on releasing RimWorld into Steam Early Access this summer.Steam release will also be the release of Alpha 14, which will be very content-rich and have at least one major new system. Check out the Steam page here.
Non-Steam players will also get the same updates at the same time, through the current SendOwl distribution system.
Regarding giving out keys, I'm afraid I can't promise this because of Valve's policy. The old answer from the FAQ still applies.
The current tentative release month is July (though this could be delayed if something unforeseen happens). I considered pushing it sooner, but I want to have time to make Alpha 14 really juicy for you, and to pump up a bit of hype. June is also a bit crowded.
For Alpha 14, we've been working intensely on two tracks. The first is just refining everything that was there. We've consumed a massive amount of feedback and applied that to the game. So there have been hundreds of balance changes, interface tweaks, systems adjustments, and bugfixes to solve the issues that are coming up.
The big feature is the scenario system. The classic RimWorld experience is to survive with three crash-landed passengers – but the game isn't limited to this any more. Now you can customize, trade, and randomize different scenarios. In each one, the starting conditions, items, characters, research, and persistent game rules are different.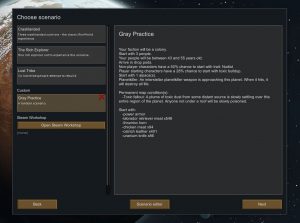 For example, we have a scenario where you play as a lone rich guy out seeking adventure, trying to build a colony on his own. He starts with a lot of wealth and research, but is alone. Another scenario has you playing six lost tribespeople trying to build a new home. As a tribe, they start with less tech (though they do have some tech that the space people lack) and get research penalties when researching high-tech projects. However, they have advantages in numbers.
Scenarios can also be randomized and manually edited. A random scenario might have a permanent toxic fallout, but start you with a pile of golden spears and ten pet bears, but not allow you to tame animals. You can edit that any way you like, write your own summary, description, and game start dialog. Here is a list of the editable scenario parts as they are now (we'll likely add more):
Permanent version of all map conditions (eclipse, solar flare, etc).
Planetkiller: World is destroyed on X date.
Climate cycle which makes the world get warmer and cooler over a period of years. Winter is coming.
Disable building a given type of building.
Pawns start with health condition X.
Start with X items.
Map is scattered with X items.
Configure arrival method (pods or standing)
Starting pawns are all between ages X and Y
Pawns explode on death (configurable type and radius)
All pawns from source (game start/all) have trait X
Starting animal(s)
Disallow mining
Disallow hunting
Disallow taming
Disallow growing
Disable incident
Multiplier for any stat on the game (move speed, mining speed, etc)
Disallow building X
Scenarios are integrated with Steam Workshop, as are mods. Both can be easily uploaded from within the game, and you can subscribe or unsubscribe in the Workshop interface while playing – the mod and scenario lists will update in real time in-game.
We're still adding and fixing more stuff. Let's get the hype train started!